Problem: (1986 China TST – #5) Given a square
whose side length is
,
and
are points on the sides
and
, respectively. If the perimeter of
is
find the angle
.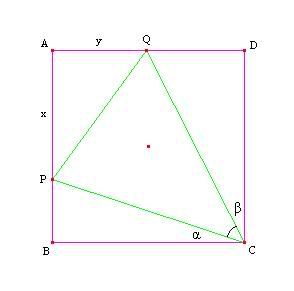 Solution: Let
and
. By the given condition, we have
(1). From this, we find
Substituting
from (1), we have
(2).
Note that
and
. Then
.
But by (2), we have
.
Hence
. QED.
——————–
Comment: Trigonometry can come in handy quite often, especially when dealing with angles. Purely geometric solutions to this problem are a lot more complicated in my opinion; when in doubt, use algebra. The following identity comes in handy on quite a few problems.
——————–
Practice Problem: Prove that in any triangle we have
.
Leave a Reply
You must be logged in to post a comment.